Stay current with our...
latest news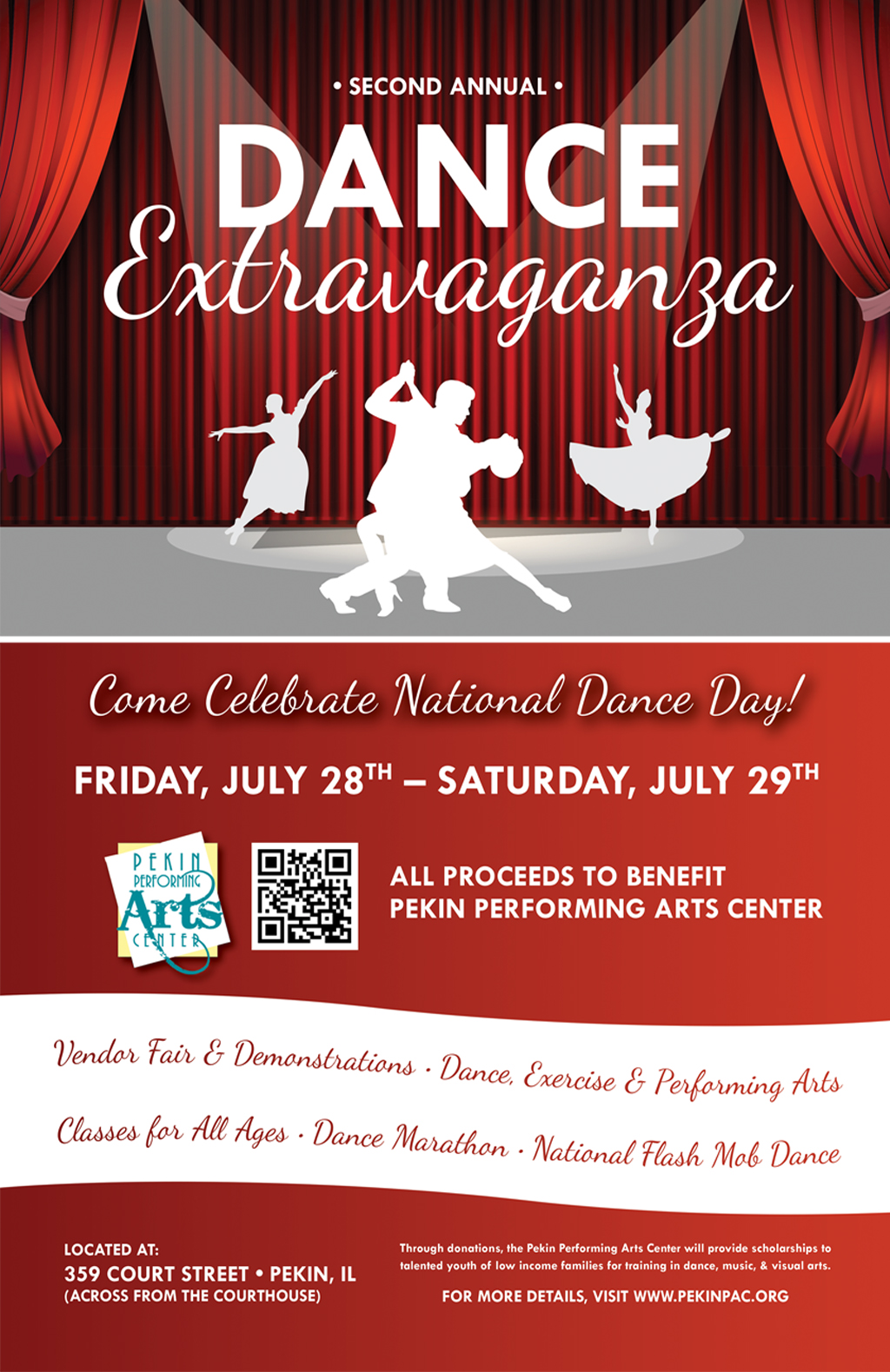 2017 DANCE EXTRAVAGANZA
-2nd Annual Scholarship Fundraising Event-
Friday, July 28TH • 7PM to 9PM
Saturday, July 29th • 11AM to 10PM
The Pekin Performing Arts Center is a non profit organization that supports local arts and students wishing to pursue their passion in the arts including, but not limited to dance and performing arts. The Pekin Performing Arts Dance Extravaganza is an annual event that helps to raise scholarship funds to continue to support our local artists. This year the Second Annual Dance Extravaganza is being held on National Dance Day, Saturday, July 29th, with a special event for couples the evening prior, July 28th. The Dance Extravaganza is shaping up to be quite the event! The line up will include a vendor fair, dance classes for all ages, raffles for themed baskets, a dance marathon, and opportunities to meet new friends in our community.

Friday, July 28th
7:00-9:00 Date Night with Young Dance Inc
Great for learning how to dance the Waltz, Fox Trot, and Rumba with your partner, $25 per couple.

Saturday, July 29th
11:00-4:00 dance and exercise classes, $5 donation per class or 5 classes for $20.
12:00-4:00 vendor fair, $0 come shop!
4:00-5:00 dance marathon, gather sponsors and challenge yourself for an hour of nonstop dance
7:00-7:45 East Coast Swing Lesson
7:45-10:00 Social Dance, $5 per person $2 per student

Special Dance Guests:
Taletha Jouzdina, US Open Champion (adult classes)
Jon Young, Young Dance Inc founder
Christian Naven, Classical Dance Academy instructor and Award winning Expression Competition Dance Team Director Nyk Sutter, Musical Theater instructor
Angelique Racki, Bollywood
Julie Antonini, Country Heat instructor
And more...

Vendor participants include to date:
Monat
Norwex
Young Living Essential Oils
Pekin Fine Arts Academy
Plexus
Isogenics
Towels for Tots
Abby Hill photography
LuLaRoe
Usborne Books
Dot Dot Smile
Flying D Dance wear
Essential Oil Jewelry
And more ...

For questions contact the planning committee at danceextraganza2016@gmail.com
For more information including a full dance schedule, CLICK HERE!